The Process
Your goal for this webquest is to travel across Germany efficiently and intelligently. Since you will be
competing against other teams, you will want to stay focused on the tasks at hand. Here are the steps
you will want to take for a successful journey!

1. You will be assigned to a team of four students.
2. Then you will click on a destination of your choice. The order you decide to travel
across Germany doesn't matter as long as you visit each destination.
3. As you travel to your destinations, you will be asked to complete a
series of activities that will be included in your portfolio. Each destination will
be a separate section of your portfolio.
4. You must complete all the activities for each destination before
moving on.
5. Good luck, and travel safely!!
Helpful Suggestions
*At each destination, there will be several internet sites. By clicking on these addresses you will find
information to help you through your travel.
*There will be several worksheets throughout your trip across Germany. Please print these off to add to
your portfolio. During your travels, please think about and notice the differences in the cultures between
Germany and the United States.
City Hall of Wernigerode, Germany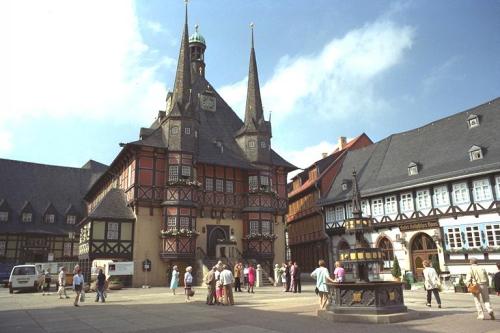 www.boldts.net
* Click on Activities to begin your trip through Germany, choose a city, and follow the instructions as you complete the tasks *