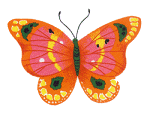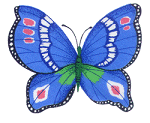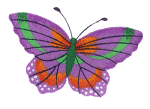 This lesson was created for our CI 3850 class at Appalachian State University. The subject of the webquest is butterflies. The students read about the butterfly life cycle and then complete some worksheets and fun activities to supplement the lesson.

Our butterfly webquest is designed for the first grade. It involves English and Computer skills predominantly, and incorporates Art, Math, and Science as well. The webquest could be extended to 2nd or 3rd grade if the lesson is focused more on the life cycle of the butterfly.
Before the students begin the webquest, they would need to know how to use an internet browser on a computer. The students would need to understand how to use the internet and use the print function in the internet browser.

These are the objectives met in our webquest that align with North Carolina first grade curriculum.
ART
1.02 Use imagination as a source of ideas.
3.01 Name and identify colors.
6.02 Accept others' work and ideas.

Computer
1.3 Identify physical components of a computer system.
1.4 Identify the Internet as a source of information.
2.1 Identify and discuss fundamental computer terms.
2.2 Locate and use letters, numbers, and special keys on a keyboard.
3.2 Gather, organize, and display data.

English
1.04 Self-monitor decoding by using one or two decoding strategies 1.1 Identify uses of technology at home and at school.
(e.g., beginning letters, rimes, length of word, ending letters).
2.01 Read aloud independently with fluency and comprehension any text that is appropriately designed for emergent readers.
2.02 Demonstrate familiarity with a variety of texts (storybooks, short chapter books, newspapers, telephone books, and everyday print such as signs and labels, poems, word plays using alliteration and rhyme, skits and short plays).
2.03 Read and comprehend both narrative and expository text appropriate for grade one.
2.06 Self-monitor comprehension by using one or two strategies (questions, retelling, summarizing).
2.09 Read and understand simple written instructions.
3.03 Discuss unfamiliar oral and/or written vocabulary after listening to or reading texts.
3.04 Share personal experiences and responses to experiences with text:
publishing non-print texts.
discussing interpretations.
recording personal responses.
3.07 Compare authors' uses of conventions of language that aid readers including:
kinds of sentences.
capitalization of first word in a sentence and proper names.
punctuation to end a declarative and interrogative sentence.
4.01 Select and use new vocabulary and language structures in both speech and writing contexts (e.g., oral retelling using exclamatory phrases to accent an idea or event).

4.02 Use words that name characters and settings (who, where) and words that tell action and events (what happened, what did ___ do) in simple texts.

4.03 Use specific words to name and tell action in oral and written language (e.g., using words such as frog and toad when discussing an expository text).

4.04 Extend skills in using oral and written language:
clarifying purposes for engaging in communication.
using clear and precise language to paraphrase messages.
engaging in more extended oral discussions.
producing written products.
4.06 Compose a variety of products (e.g., stories, journal entries, letters, response logs, simple poems, oral retellings).

5.04 Use complete sentences to write simple texts.

5.05 Use basic capitalization and punctuation:
first word in a sentence.
proper names.
period to end declarative sentence.
question mark to end interrogative sentence.
5.06 Self-monitor composition by using one or two strategies (e.g., rereading, peer conferences).


MATH

1.06 Read number words zero to ten.

1.09 Identify one more/less/before/after/between.

1.14 Model concept of addition; know the combinations for sums to 10.

1.15 Model concept of subtraction as take-away, comparison, and missing addends.

1.18 Find sums and differences using counting strategies such as counting on and counting back.


SCIENCE

1.02 Determine the needs of animals:
Air.
Water.
Food.
Shelter.
1.03 Identify environments that support various types of living organisms.
By doing this webquest, the students will also stimulate their creative ability. During task three, the students are asked to print and color pictures of butterflies and assemble them together into a book. After making their own butterfly book, they write a creative story about butterflies. Writing the story would involve some critical thinking. The story has to be coherent and the sentences must be grammatically correct. It is up to the students what they wish to write, and it allows them to explore their new knowledge about butterflies. The students also learn some speaking skills because they will present their books to the class in a show-and-tell day when the project is completed.

Now you are ready to begin your exciting webquest about butterflies! You will complete this project individually over the next week. All you have to do is click on the icons below to get started!!
Before starting the webquest, the teacher must be sure to go over with the students how to maneuver around an internet browser and show the students how to print a page from the internet.
The webquest is a single disciplinary project. The students should be given one period per day for one week to complete the assignments. If the students need more time, then it should be allowed. Making the butterfly book will be the most time consuming activity. The students could be allowed to work on their books at home to save class time.
This webquest is easy enough for the novice teacher. All that you need to do is be able to function on the internet and be available to help your students.

These are the materials needed to implement this lesson:
computer lab
access to the internet
printer
white computer print paper
coloring utensils (crayons, markers, colored pencils)
staple gun
pencils
One teacher is sufficient for implementing this lesson, but parents or teachers aids could be helpful with computer help.

You will be graded individually on the following:
Beginning
1

Developing
2

Accomplished
3

Exemplary
4

Score



Task One - Reading and Label worksheet

Attempted to read the material and did not complete the worksheet.
Student was able to read the entire book and attempted to complete the worksheet.
Read all the material and completed the entire worksheet. Some of the answers were incorrect.
Read all the material and successfully completed worksheet.

Task Two - Activities with a Butterfly

Played some of the games but did not complete worksheets.
Played games and attempted worksheets.
Played all the games and completed worksheets with errors.
Played all the games and successfully completed the worksheets.

Task Three - Make your Own Butterfly Book

Printed out pages but did not color all of them. Did not bound pages together or write a story.

Printed out, colored, and somewhat bound pages together. Did not write a story.
Printed out, colored, and bound pages together. Attempted to write a complete story.
Printed out, colored, and bound pages together. Wrote a story in complete sentences.

This webquest is a fun and interactive way for students to learn about butterflies. Learning about butterflies in this creative way will enable students to have educational fun while learning the curriculum.

Kids Domain Icon Mania - Butterfly Icons


School Icons Club - Graphics
Foremost Insurance Group - Butterfly Journal, Activities, Snack Recipe, Coloring Pages
Yukon Butterflies - Butterfly Life Cycle Stages, Games
Enchanted Learning - Label Me! Worksheet, Coloring Math Worksheet
Classroom Clipart - Background Image
Silver Burdett Ginn Mathematics - Grade 1 Butterfly Math Worksheet
All About Coloring - Coloring Pages
Translation - Spanish
NC Curriculum - North Carolina Standard Course of Study

---
Last updated on August 15, 1999. Based on a template from The WebQuest Page